What's up?
We built 30 Latrines in Ferrier Morne l'hopital with the financial support of American Red Cross


Meal Programs
Post earthquake Neighborhood Meal Program
This program began on March 8th 2010 when the population, approached our staff asking for help to feed the children of the area. "They're starving and many go all day without eating. They are suffering from malnutrition." Through the support of Mme Simone Anders (HELPACHILD), ODEVICH has been providing a meal once a day, five days a week to over 160 children. This is often the only meal they have and must provide them with the strength to help their families. The meal program also includes a multivitamin for each child at every meal to improve each youngster's nutrition and health.
ODEVICH`s Feeding Program - Importance
Haiti is the poorest of continent; more than 70% of the population is living under threshold of absolute poverty.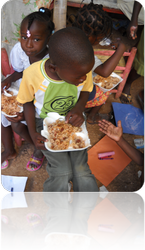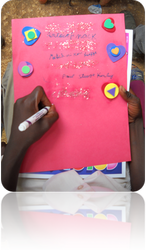 The socio-economic situation continues to deteriorate day after day and it is worse after the earthquake. Like this, it is more and more difficult or impossible for a lot of children and adult to find something to eat. So each meal is a real victory over hunger.
The kids are eating
The kids are playing
A lot of them left to their own devices with serious implications.
We asked a young boy:
"Why do you come to eat every day?" He answered:
"I don't want to die from hunger."
"I don't have anything to eat", answered another.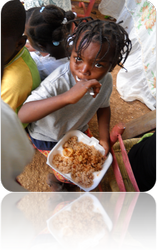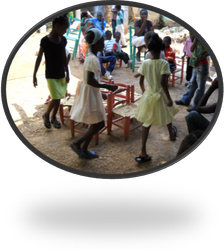 Considering that critical situation we can highlight the importance of the feeding program:
Socially this program expresses solidarity between Haitians who want to help and the important impact that the support team brought together by (Mme Simone Anders) has in lives of many deprived children who benefit these activities and that is in accordance with God`s prescriptions. One of fundamental rights of children is alimentation which is being encouraged by the feeding program. This also contributes to the reduction of the risk of delinquency.
From a health standpoint, this program permits the reduction of malnutrition and starvation which strike seriously young people of this country.
To summarize we could say that feeding program allow those deprived children to get rid of some of their physical and psychological suffering. Since you know we hold a few cultural activities every day there is singing, dancing, games, drawing and informational training ect…
Thank you for your support. To support this program please contact us at info@odevich.org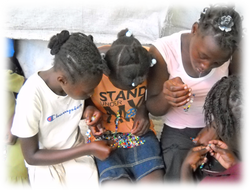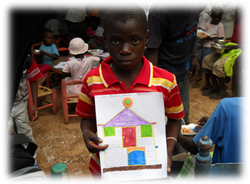 ---
Distribution organisée par Odevich
---
Post earthquake Activities in our school
---
Learn more about the Haïti Earthquake facts on wikipedia

http://www.caribbean360.com/business/136103.html